Denmark's Biggest Find of Rock Engravings (petroglyphs)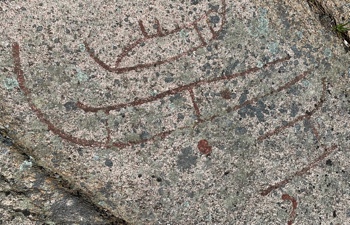 The rock engravings ("Helleristninger" in Danish) at Madsebakke between Allinge and Sandvig are Denmark's most comprehensive find of their kind.

Among other things, the engravings depict ships, footprints and Sun symbols.

If you follow the new path from the People's Meeting square past Madsebakke to Hammershus, you will find yourself in the fields of Hammersholm where there are many other rock engravings, some of which were only very recently discovered.

A rock engraving is easiest to find around dawn or sunset, although the easiest method may be with a flashlight.
Searching for them in full sunshine is quite a challenge.

So far, more than 400 sites with rock engravings have been found on Bornholm, with new discoveries being made each year.

By comparing the rock engravings to motifs on razors from ancient burial sites, many of the engravings can be dated back to the Bronze Age (1800-500 B.C.).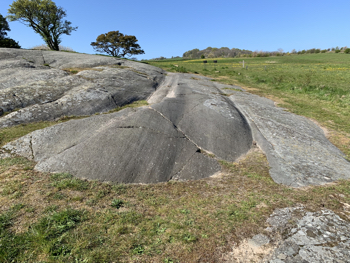 In the Bornholm dialect, "helle" or "halle" means a rocky piece of ground.

Madsebakke in Allinge is a favourite excursion destination for schoolchildren all around Denmark and receives more than 20,000 visitors a year.

There are an additional two sites near Allinge, however.
On the road to Olsker, approximately 100 metres outside the town sign, lies the Storløkke site. (see the attraction sign)

On the road to Hasle, approximately 2 km from Allinge, you'll find another sign marking two small sites with some amazing engravings.
The Blåholt engravings.